Dr. Burton White, Author of 'The First Year of Life'
"This is one of the exciting new discoveries in the field of child development. The ability to understand what is in the mind of a baby that cannot speak makes life far easier and more pleasant for both parent and baby."
What is Baby Sign Language?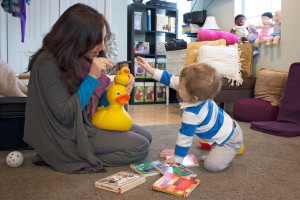 Baby sign language, developed by Dr. Joseph Garcia, lets babies and toddlers communicate their needs to their caregivers, so they don't need to cry or become frustrated.
During the first years of life, Infants and toddlers have a desire to communicate their needs and wants however, speech occurs after cognitive ability.
Baby sign language gives them the ability to communicate their needs and wishes, pre-verbal, without frustration, tears or tantrums. Babies and toddlers can learn signs important to their lifestyle such as "milk", "more", "sleep", "eat", "Mommy", "Daddy" and so on.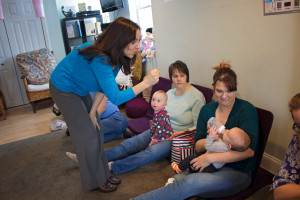 Learning is at the infants own page. Each individual infant develops the ability to sign at different stages in their growth.  For an infant to start signing, the infant must be able to focus on the hand movement and have the cognitive ability to make the connection than a sign is a gesture of something they need or want.
Benefits of Baby Sign Language
Reduces frustration for everyone

Deepens bonding between you and your baby

Gives babies the ability to express themselves before they can speak

Accelerates your babies development of speech

Increases child's vocabulary

Relieves anxiety about your babies needs

Enhances early literacy skills

Ads visual and kinesthetic emphasis to auditory input

Lower noise levels and aggressive behaviors in childcare settings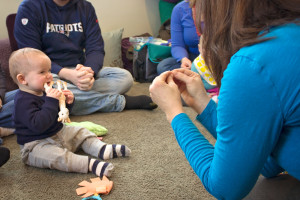 About the Class
This four week class or one time introductory workshop will give you some benefits and research in this area as well as ways to teach your baby many American Sign Language Signs. The class is taught by Sheryl White who has used the Sign with Your Baby program by Joseph Garcia with her own children.
Sheryl begins the class with instruction detailing, how to teach your baby sign language, benefits and research for caregivers.  Afterwards, Sheryl brings out a bag filled with props, toys, puppets, etc. and signs with the babies. Caregivers then get a turn learning signs while interacting and engaging with the babies.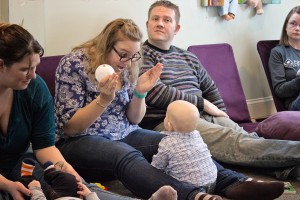 Classes are a feast for the babies eyes and they usually leave ready for a nap after all of that learning and stimulation.  Some parents even report longer naps after class!  Caregivers leave with handouts and armed with the tools they need to sign with their babies.
This class is appropriate for babies and young children 2-months or older and pre-verbal.
Private instruction is available as follows:
one on one

small group

via skype

by phone
Click here to see current and upcoming classes at William James College 
---
For More Information…
For questions, class locations or to book Sheryl for a private session, please email:  [email protected], call: 617 905-0100 or complete the form on the contact page